Trudeau's refreshed cabinet meets in Quebec amid economic uncertainty, China tensions
Prime Minister Justin Trudeau and his revamped cabinet met in Sherbrooke, Que., on Wednesday, the start of a three-day retreat to deal with pressing economic, environmental and international issues while setting the Liberals on course for this year's federal election.
Economic uncertainty, a contentious carbon tax, stalled pipelines and a need to diversify trade partners are some of the top domestic priorities, while U.S. relations and rising tensions with China are also on the table.
The choice of venue is politically strategic; the Liberals face softening support in some parts of Atlantic and Western Canada, as well as Ontario. To offset potential losses, they're targeting seats now held by the NDP in vote-rich Quebec.
Daniel Béland, a political scientist at Montreal's McGill University, said the Liberals are making a splash in Quebec because they see a big electoral opportunity in the 78-seat province. Winning the upcoming byelection in the Montreal-area riding of Outremont would be a significant initial win.
« They know that Jagmeet Singh is not doing very well as the leader of the NDP and there are quite a few seats that the Liberals would like to take in the next election, » he said.
« It would be a symbol to send a strong message that the Liberals are very strong in Quebec and the NDP is facing a decline. »
Outremont had been a long-time Liberal stronghold, but Tom Mulcair claimed it for the NDP in a 2007 byelection, and it has remained in the party's hands since. The byelection to fill the former NDP leader's seat is set for Feb. 25.
Along with the physical presence in Quebec, Liberals are also targeting the region with financial support.
Millions in funding announcements
Since Jan. 7, ministers have fanned out for more than a dozen announcements worth more than $12 million for projects — some proposed, some confirmed — in the province, ranging from snowmobile trails to business development to infrastructure projects.
A number of ministers arrived in the region early to meet with stakeholders, and on Wednesday night Trudeau greeted supporters at a cocktail fundraiser at a downtown hotel, calling for calm and unity at a time of polarized political discourse.
« Our capacity to show [voters] we hear them, we're respecting them and we're working together for the right path forward is always going to pull this country together, » he said.
Anti-pipeline and Indigenous protesters demonstrate outside the Liberal Party fundraiser. (Kathleen Harris/CBC)
Anti-pipeline and Indigenous protesters, alongside postal workers upset by back-to-work legislation, demonstrated outside. Among the crowd was Pierre-Luc Dusseault, the NDP MP for the riding.
Behind the scenes on Thursday, Béland said the ministers will likely wrestle with a number of issues where the government is vulnerable, including pipeline politics and a carbon tax that's facing fierce opposition from some premiers.
The political landscape has changed dramatically on the provincial front, with Trudeau now facing strong Conservative premiers with Ontario's Doug Ford, Saskatchewan's Scott Moe and, potentially Jason Kenney, in Alberta.
« That could have a real direct impact on the next federal election depending how that plays out, » Béland said.
Interprovincial, international tensions
Ford and Moe have already joined forces to challenge the federal carbon tax in court.
Béland said the biggest challenge for Trudeau in the months running up to the Oct. 21 election is finding a way to be a unifying force in the divisive debate over developing natural resources while protecting the environment.
« It's a difficult situation to navigate, because if you deal with pipeline building, the country is divided over this and it's not just that you have regional divisions. Even people in B.C. are divided. So it's not a simple issue to tackle, and there are a lot of hurdles, and you have Indigenous issues on top of that. »
Liberal strategist Greg MacEachern said this cabinet retreat is significant given it's the first of an election year, and because there are new ministers and others with new roles at the table. Monday's shuffle saw three ministers moved to new portfolios and two new appointments to the inner circle. 
With the countdown on to October's vote, MacEachern said the critical objective now is to stay the course: Don't take risks in policy initiatives and emphasize the accomplishments.
« You really want to make sure this cabinet is focused on the coming budget, the coming legislative session and then into the campaign, » he said. « If there is an internal official motto, it is probably 'Do no harm.' »
Cabinet will also face global uncertainties including U.S. President Donald Trump, and rising diplomatic tensions with both Saudi Arabia and China.
The meeting kicked off with a special panel with six ambassadors who spoke about the pressing issues for Canada on the international stage. Canada's Ambassador to China, former minister John McCallum, was among them.
He said his highest priority was securing the release of the two Canadians currently being held in China — in apparent retaliation for the arrest of Huawei executive Meng — and to stop the death sentence that was recently handed to a third, Robert Lloyd Schellenberg.
« I am detrmined to do what I can, and there are various things that we are doing, to secure their release and his life, so our work is consumed every day by these priorities, » he said.
Liberal policies 'harmful' to Quebec
A release from the Prime Minister's Office said the retreat is being held in Sherbrooke « as part of the government's commitment to take actions that give Canadians what they need to thrive in the economy of today and tomorrow, and that fuels strong economic growth in all regions of Canada. »
« Quebec is at the heart of Canada's history and our future success, and we will continue to support the workers and industries of Quebec — and those across the country — to build a stronger economy that benefits all Canadians, » Trudeau said in a statement.
But NDP MP Alexandre Boulerice, the party's Quebec lieutenant, said the Trudeau government has made decisions that are harmful to Quebec.
« In recent years, the Liberals have demonstrated that they are unable to fight climate change and tax havens, and are unable to ensure that web giants guarantee local content and pay their fair share, » he said.
« The NDP Quebec caucus will continue to fight the big battles with and for Quebecers in the coming months and during the next election. »
Quebec Conservative MP Luc Berthold accused Trudeau of trying to court voters in Quebec while dairy producers, steel and aluminum producers and forestry workers across the province have been hurt under his watch.
« Justin Trudeau has brought his team to Quebec in a desperate attempt to shore up support before the next election but Quebecers won't be fooled. They are tired of Justin Trudeau's failures and are ready for a government that puts people first, » he said.
Why did Bruce McArthur plead guilty? Police hint answers are coming
Why Bruce McArthur chose to plead guilty to eight charges of first-degree murder was not explained on Tuesday morning, although police hinted that answers still may come.
McArthur's admission in a Toronto courthouse that he killed eight men wasn't entirely surprising — police had said earlier a « significant development » was coming. But guilty pleas can be rare in big trials because, during the lead up, the defence can determine the strength of the Crown's case, according to B.C. criminal lawyer Marilyn Sandford.
« The first question is always: Can they prove their case? » Sandford, who was part of the legal team that represented serial killer Robert Pickton, said in an interview with CBC News earlier this month.
« You want to be able to give [your client] that opinion before you rush into negotiating a plea agreement because you need to be able to tell them the strengths and weaknesses of the case so that they can make an informed decision about what to do. »
McArthur's trial was expected to take three to four months and the trial date had been set for Jan. 6, 2020, meaning his team had almost another year to search for weaknesses.
Outside the courthouse, Det. David Dickinson, one of the lead investigators in the case, indicated he would comment on McArthur's reasons for pleading guilty at a later time. Insp. Hank Idsinga, the head of the investigation, also suggested that more information about McArthur's motivation to plead guilty may be forthcoming.
« We'll see what else comes out in court next week, » he told CBC News.
Instead, Ontario Superior Court Justice John McMahon opened proceedings by asking McArthur if he understood exactly what it meant to plead guilty, and warning that he could not plead guilty to things he didn't do just to get the case over.
Did McArthur understand, McMahon asked, that he was giving up his right to a trial?
McArthur simply replied: « Yes. »
McMahon also asked if the former landscaper was pressured by family, friends, lawyers or police officers involved in his case. McArthur said he was not. 
McMahon said the guilty plea meant he had to sentence McArthur to life imprisonment. Whether he will serve his sentences concurrently or consecutively will be decided next week.
Insp. Hank Idsinga, the lead detective in the case, said he felt 'a little emotional, a little bit surreal,' following McArthur's guilty plea. (Evan Mitsui/CBC)
« So, you understand you'll have to serve at least until you're 91 before you could be eligible to apply for parole, » McMahon said. « Do you understand that? Do you understand that, sir? »
« Yes, your honour, » McArthur said.
McArthur made his plea 11 days after the one-year anniversary of his arrest, and a year to the day after police first used the label « serial killer » to describe the perpetrator of the eight murders he is now convicted of.
He was brought into court handcuffed, head shaved, wearing a blue sweater — one he has worn at numerous court appearances — with a plaid shirt underneath, and jeans.
It was a different image from that of a smiling and stocky man with a goatee, seen in Facebook pictures that have circulated in the media.
« This man is much older, stooped, lost a lot of weight, » said Karen Fraser, who had hired McArthur as a landscaper, and whose property he had used to bury his victims.
Karen Fraser had hired McArthur as a landscaper. He used her property to bury his victims. (Evan Mitsui/CBC)
« I knew a man who was always energetic, enthusiastic, eager to get on to the next thing. And this is just a shuffling broken man, as he should be. »
​The courtroom was full, packed mostly with journalists, police officers and friends and family of the victims. The latter expressed little emotion, sitting grim-faced as McArthur's crimes and his pleas were said in court.
McArthur stood hunched, his fingertips resting on the wooden banner in front, his eyes off to the side, staring blankly, looking at no one, not the judge, not the court clerk who read aloud each murder charge, naming each murder victim: Andrew Kinsman, 49, Selim Esen, 44, Skandaraj Navaratnam, 40, Abdulbasir Faizi, 44, Kirushna Kumar Kanagaratnam, 37, Dean Lisowick, 47, Soroush Mahmudi, 50, and Majeed Kayhan, 58.
Of the eight victims, seven had ties to Toronto's LGBT community.
When the clerk was finished reading the charges, McArthur was asked for a plea after each count.
« Guilty, » he repeated eight times.
Several Toronto Police Service officers sat in the front row of the courtroom facing McArthur's back. Those officers included Dickinson and Idsinga, who has become the face of this investigation that has drawn international attention.
McArthur confessed to killing these eight men. Top row, from left to right, Skandaraj Navaratnam, 40, Andrew Kinsman, 49, Selim Esen, 44, and Abdulbasir Faizi, 44. Bottom row, from left to right: Kirushna Kumar Kanagaratnam, 37, Dean Lisowick, 47, Soroush Mahmudi, 50, and Majeed Kayhan, 58. (Toronto Police Service/CBC)
« A little emotional, a little bit surreal » Idsinga said he felt afterward. « Absolutely it's closure. It's not happiness, it's not something to celebrate. It's good to get it done. »
It is still not known how McArthur killed his victims. But what the court did hear Tuesday, in an abridged version of an agreed statement of facts, was that all eight murders were planned and deliberate, that six were sexual in nature, that McArthur had kept some of his victims' items as souvenirs and « staged » some of them, although what that meant was not clarified.
The full details of those crimes are expected to be revealed next week at a sentencing hearing where friends and family will deliver victim impact statements. 
McArthur will be at least 91 before he's eligible for parole. It remains to be seen if he will serve his sentences consecutively or concurrently. (Bruce McArthur/Facebook)
McMahon said he was hoping to read the statements ahead of time, and reminded that there are certain things that can and can't be included in such statements. Swearing or threats, for example, are not allowed.
« I don't want to be in a position Monday where I have to reject some of  the… loved ones' victim impact statements because it doesn't fit within where we have to be.
« It is important to see the impact it's had on your lives. »
McMahon said it would be in everybody's interest for the case to wrap up next week, « to have closure for the family, for Mr. McArthur, for everybody involved. »
From Project Houston to Bruce McArthur's guilty plea: A timeline of what we know so far
A year after Bruce McArthur's arrest, unsealed warrant information and exhibits from his earlier assault case continue to shed light on the activities of the serial killer, police investigations into missing men from Toronto's Gay Village and beyond.
​CBC Toronto and other media outlets are in court fighting to unseal information in more than 88 heavily-redacted judicial orders obtained by investigators in Project Houston and Project Prism.
The task forces were created to probe the disappearances of Skandaraj Navaratnam, Abdulbasir Faizi and Majeed Kayhan between 2010 and 2012, and then Selim Esen and Andrew Kinsman in 2017.
On Jan. 29, 2019, McArthur pleaded guilty to all eight counts of first-degree murder.
The timeline below includes the information that has been unsealed from the investigations, exhibits from McArthur's assault case and most of CBC Toronto's reporting so far.
Late 1990s: Bruce McArthur begins a relationship with a married man « towards the end of his [own] marriage, » according to the pre-sentence report for McArthur's assault conviction. The men stay together for four years.
1998: McArthur moves to Toronto after leaving his marriage. 
1999: McArthur sees a psychiatrist « as a result of difficulties coping with the breakup of his marriage and his first gay relationship, » according to the pre-sentence report from his assault conviction.
That same year McArthur also meets Skandaraj  Navaratnam. 
December 2000: McArthur and his wife sell their house in Oshawa.
Skandaraj Navaratnam, known to friends as Skanda, went missing in 2010. Two of his friends have confirmed that he knew Bruce McArthur. (CBC)
Early 2000s:  McArthur and Navaratnam are in a relationship at some point during this time.
McArthur assault conviction
Oct. 31, 2001: McArthur assaults a man with a metal pipe in the man's home. McArthur turns himself in to police. Throughout the case, McArthur maintains that he blacked out before the assault and doesn't know why he did it.
Jan. 29, 2003: McArthur pleads guilty to one count of assault causing bodily harm and assault with a weapon.
March 19, 2003: Dr. Marie-France Dionne writes a psychological report about McArthur at the request of his lawyer to find out if a mental health issue could have led to the assault.
In the report the psychiatrist found « no sign of mental health problems » that could have contributed to the incident, and offered no other explanation for the assault.
Dionne writes that McArthur has a « very minimal » risk for violence, and in terms of personality, she characterizes him as a « passive and indecisive » man who seeks « to maintain an image of being a proper and cooperative person, prone to behaving correctly and modestly. »
April 11, 2003: McArthur is sentenced to one count of assault causing bodily harm and assault with a weapon.
The Crown and McArthur's lawyer enters a joint submission for a conditional sentence. Court transcripts show the Crown thinks, « it wouldn't be in society's interest or Mr. McArthur's interest to have him go into jail at this point in time. »
Instead McArthur serves his two years less a day sentence in the community with restrictions like a ban on visiting the Gay Village, being in the company of a male prostitute and a 10-year weapons prohibition. McArthur is also ordered to attend counselling for anger management and provide a DNA sample.
3 men go missing from the Gay Village
Sept. 6, 2010: Skandaraj Navaratnam, 40, goes missing over Labour Day weekend. He's last seen leaving Zipperz nightclub, near Church and Carlton streets, with an unknown man around 2 a.m.
Sept. 16, 2010: Navaratnam is reported missing by a friend.
Dec. 29, 2010: Abdulbasir Faizi, 44, calls his wife and tells her he is at work with co-workers and will be home later that night. His last known location is in the Church and Wellesley street area of Toronto's Gay Village. 
Dec. 30, 2010: Faizi's cousin reports him missing to Peel Regional Police. 
Project Houston, a police taskforce, was created to probe the disappearances of Skandaraj Navaratnam, Abdulbasir Faizi and Majeed Kayhan.
Jan. 4, 2011: Police discover Faizi's 2002 Nissan Sentra abandoned on Moore Avenue, in the area of St. Clair Avenue East and Mount Pleasant Road.
It's just a short drive from the home on Mallory Crescent where McArthur stores his tools and where planters with the remains of his victims are later recovered.
Oct. 18, 2012: Majeed Kayhan, 58, is last seen by a friend in the area of Alexander and Yonge streets.
Oct. 25, 2012: Kayhan is reported missing by his adult son.
November 2012: Police create Project Houston, a task force, to probe the disappearances of Navaratnam, Faizi and Kayhan.
Dec. 17, 2012: Police obtain the first judicial order of Project Houston, a tracking warrant for a vehicle. Like all of the warrants in the investigation, police obtain an order sealing the tracking warrant from the public.
The investigator has to provide the court reasons why the warrant should be sealed. Those reasons include protecting a confidential source and one underage victim. The task force obtains about 40 more warrants before it gets shut down in April 2014.
Police chase dead end suspect
Dec. 20, 2012: Police obtain a general warrant for a residence in London, Ont., owned by James Alex Brunton. A general warrant gives police the power to « use any device or investigative technique, or procedure » to do whatever is described in the warrant that would normally be considered an unreasonable search and seizure.
Project Houston obtained at least seven judicial orders in connection to James Alex Brunton and his home in Peterborough. (CBC)
The task force investigates Brunton as a murder suspect in the disappearance of Skandaraj Navaratnam.
At least six other Project Houston judicial orders are obtained in connection to Brunton by Project Houston. In the end Brunton is not connected to Navaratnam, but pleads guilty to child pornography charges in January 2014.
Police refuse to confirm whether or not they spoke with McArthur in this period, although they were aware of his relationship with Navaratnam.
Sept. 23, 2013: The final judicial orders of Project Houston are obtained.
April 2014: Police shut down Project Houston after 18 months because they can't find any criminal evidence.
Police interview McArthur
2014-2017: Toronto police talk to McArthur as part of a divisional investigation that is not connected to either Project Houston or Project Prism at some point during this time.
Bruce McArthur, 66, is accused of killing eight men and police believe there may be more victims. (Bruce McArthur/Facebook)
The Toronto police professional standards unit has since launched an internal investigation into the matter. 
More men go missing, some unreported
Aug. 15, 2015: Soroush Mahmudi, 50, is last seen near his apartment building on Markham Road in Scarborough around noon. 
Aug. 22, 2015: Mahmudi's son-in-law reports him missing.
August 2015: The family of Kirushna Kumar Kanagaratnam, 37, last spoke to him by phone from their home in Sri Lanka.
Soroush Mahmudi, Kirushna Kumar Kanagaratnam and Dean Lisowick went missing between the two police task forces. Kanagaratnam and Lisowick were never reported missing.
September-December 2015: Police believe Kanagaratnam was killed at some point during this time period. His family never reported Kanagaratnam missing because they thought he was in hiding after the Canadian government rejected his refugee application.
2016-2017: Police believe Dean Lisowick, 47, was killed at some point during this time period. Unlike most of the other victims, Lisowick was never reported missing. 
April 26, 2016: The last time Lisowick was admitted to a shelter in Toronto. He was a regular user of the shelter system.
Project Prism
April 16, 2017: Selim Esen, 44, goes missing over Easter weekend. He is last seen near Yonge and Bloor streets.
April 30, 2017: Esen is reported missing.
June 26, 2017: Andrew Kinsman, 49, is last seen in Cabbagetown a day after Toronto's annual Pride parade.  
June 29, 2017: Kinsman is reported missing. Police later said a crucial piece of evidence was uncovered because Kinsman was reported missing within 72 hours. Investigators hinted that without that evidence McArthur might still be free.
Project Prism, a police task force, was created to probe the disappearances of Selim Esen and Andrew Kinsman in 2017.
August 2017: Police establish Project Prism task force to probe the disappearances of Esen and Kinsman.
Aug. 16-17, 2017: The first two judicial orders are made for Project Prism. One is a production order for Google and the other is a production order for Rogers Communication.
A production order gives police the power to compel a person or organization to provide documents or records. In the case of these two orders, investigators were looking for IP address logs for Kinsman's email accounts and Kinsman's cell phone records.
Since those first two, the task force obtains another 22 production orders, including ones for banking and phone records and Highway 407 usage.
Police eye McArthur
Sept. 6, 2017: Toronto police's mobile surveillance unit starts tracking McArthur's movements.
Sept. 8, 2017: For the first time in the investigation, police use Bruce McArthur's name in their request to seal a production order for Bell Canada.
Sept. 14, 2017: Police obtain a tracking warrant for two of McArthur's vehicles, in order to allow « officers the opportunity to monitor … the movements of McArthur. »
Sept. 16, 2017: McArthur sells an old, rusty, maroon-coloured Dodge Caravan to Dom's Auto Parts, an auto parts shop outside Toronto.
In early September 2017, police used Bruce McArthur's name for the first time in a request to seal a production order for Bell Canada. (Bruce McArthur/Facebook)
Oct. 3, 2017: Police visit Dom's Auto Parts looking for the maroon-coloured Dodge Caravan. Investigators comb through surveillance footage and tow away the vehicle. The owner of the shop tells CBC Toronto that police found blood in the van.
Oct. 24, 2017: Police obtain a production order looking for user records for Squirt, a gay hookup site. They have reason to believe McArthur, Kinsman, Esen and Navaratnam have accounts with the site.
Nov. 2, 2017: Investigators obtain tracking warrants for two cell phone numbers used by McArthur, and extend an existing tracking warrant for his vehicle in order to « track McArthur's communications and movements via his cell phone. »
In the warrant application police say they are developing a plan to invite McArthur to a police station for an interview as a person of interest in the hopes that it might « incite him » to reach out to another person « if they are criminally involved, » or take other actions that could help investigators locate Kinsman.
Kinsman's blood found in McArthur's van
Nov. 8, 2017: McArthur becomes a suspect in the murder of Kinsman after police find Kinsman's blood in McArthur's van. As a result, the next day the mobile surveillance unit restarts surveillance of McArthur.
Nov. 17, 2017: Investigators use cadaver dogs to search the area behind 53 Mallory Crescent, where McArthur stored his landscaping equipment, with no results.
Dec. 5, 2017: Police obtain a general warrant to covertly enter McArthur's apartment to clone data from any digital devices and storage media and search for any items directly linked to Kinsman, like his cell phone or physical evidence.
Investigators entered the apartment for the first time that day, but had to leave quickly because someone (whose name is redacted in the warrant application) was on their way home.
Dec. 7, 2017: Once again, police return to McArthur's apartment and this time start to copy the computer and hard drives in his bedroom. Investigators were in the apartment for just more than an hour before they were alerted through surveillance that McArthur was on his way home. 
Police say no evidence of serial killer
Dec. 8, 2017: In a news conference, police tell the public they have no evidence of a serial killer operating in the Gay Village.
Dec. 11, 2017: Police install a hidden camera to capture the garage door of 53 Mallory Crescent, where McArthur worked as landscaper and stored tools.
Toronto police Chief Mark Saunders is investigating the force's response to several missing person cases. (CBC)
Jan. 17, 2018: Police uncover two pieces of crucial evidence linking McArthur to Esen and Kinsman's disappearances.
McArthur arrested, charged with 1st-degree murder
Jan. 18, 2018: Police arrest McArthur after investigators observe a man entering his Thorncliffe Park apartment in the morning. When officers forcibly enter the apartment to arrest McArthur, they find the man in restraints. It is believed the man went to McArthur's seeking a sexual encounter.
McArthur is then charged with first-degree murder in the deaths of Esen and Kinsman, even though the men's bodies have yet to be found. Police also attribute three other murders of « unknown » men to McArthur in a search warrant obtained that day. 
In a news conference, police reveal that Kinsman and McArthur had been in a sexual relationship for « some time. »
Forensic investigators have been probing a rural home in the small community of Madoc, Ont., for clues in the disappearances of two men. The property is owned by the brother of Bruce McArthur's longtime friend, Roger Horan. (Frederic Pepin/CBC)
Investigators also say they had secured five properties connected to McArthur. Those properties include McArthur's apartment, which police obtained a search warrant for, a house connected to a friend of McArthur's in Scarborough, another property connected to that friend in Madoc, Ont., a house in midtown Toronto where McArthur worked as a landscaper and another address in Toronto.
Jan. 21-26, 2018: Police obtain a search warrant for a house on Mallory Crescent in midtown Toronto, where McArthur worked as a landscaper and stored tools.
Investigators also get search warrants for their own buildings like Forensic Identification Services and 33 Division, so that they can examine items seized from McArthur's apartment and the other addresses searched.
The items seized include 10 labelled red and silver USB storage sticks, the writing on the labels is redacted and under seal in the warrant applications. 
Jan. 22, 2018: Soroush Mahmudi is identified as one of McArthur's victims in a search warrant application. His murder is listed in the offences connected to the warrant.
Jan. 26, 2018: Majeed Kayhan is identified as one of McArthur's victims in a search warrant application. His murder is listed in the offences connected to the warrant.
Remains found in large planters
Jan. 29, 2018: McArthur is charged with three additional counts of first-degree murder in the deaths of Majeed Kayhan, Soroush Mahmudi and Dean Lisowick. 
Police also reveal they discovered dismembered remains in the bottom of large planters at the house on Mallory Crescent. Investigators call McArthur a serial killer for the first time.
Forensic investigators discovered dismembered remains in the bottom of large planters after searching a property at Mallory Crescent in midtown Toronto that was linked to McArthur. (CBC)
Feb. 8, 2018: Police say they've identified the remains of Andrew Kinsman from the large planters seized from the house on Mallory Crescent.
Feb. 16, 2018: Skandaraj Navaratnam and Abdulbasir Faizi are identified as two of McArthur's victims in a production order application. Their murders are listed in the offences connected to the application.
Feb. 23, 2018: McArthur is charged with first-degree murder in the death of Skandaraj Navaratnam. Police identified Navaratnam's remains from one of the large planters seized from the Mallory Crescent house where McArthur stored landscaping equipment.
Det.-Sgt. Hank Idsinga tells the media that Skandaraj Navaratnam's remains have been identified from one of the large planters seized from the Mallory Crescent house. (David Donnelly/CBC)
March 7, 2018: Police obtain a general warrant to sift through all of McArthur's emails for connections to his victims.
April 4, 2018: Police obtain a production order for McArthur's probation records from his 2003 assault conviction. In the application police note their efforts to « trace McArthur's movements since he became an adult » have been hampered by McArthur's ex-wife and son's « unwillingness to talk to police. »
April 11, 2018: McArthur is charged with first-degree murder in the death of Abdulbasir Faizi. Police believe the two knew each other. In a news conference police also tell reporters they've identified three more sets of remains from the planters belonging to Selim Esen, Dean Lisowick and Faizi.
April 12, 2018: In a warrant to continue searching McArthur's apartment, police say they have no evidence to suggest anyone assisted McArthur with the murders. Although during the investigation police did explore whether a number of McArthur's family and friends could have helped with the killings.
This search warrant is the last of the judicial orders CBC Toronto and other media outlets currently have access to. More judicial orders have been issued since, but they remain sealed.   
McArthur charged with 8th count of murder
April 16, 2018: McArthur is charged with first-degree murder in the death of Kirushna Kumar Kanagaratnam. His remains are identified from planters along with six other men McArthur is accused of killing. Police had previously released a deceased photo of Kanagaratnam as a last resort to identify him.
May 7, 2018: Since the ground thawed, police send out teams of cadaver dogs this week to roughly 100 properties linked to McArthur. Investigators do not disclose the addresses, but say the properties they'd searched were sites where McArthur worked as a landscaper.
Toronto police finished a months-long forensic investigation of the apartment rented by alleged serial killer Bruce McArthur. (CBC)
May 15, 2018: Police finish an inch-by-inch search of McArthur's apartment. Investigators collect more than 1,800 pieces of evidence from the apartment in what they call the « largest forensic examination » in Toronto police history.
June 1, 2018:Police canine units finish their searches of roughly 100 properties connected to McArthur, including the Mallory Crescent home, where investigators find the remains of seven men in large planters. Police say they need to do some follow-up investigating before deciding if there will be further searches at some of the properties.
July 2018: Toronto police quietly launch the service's first-ever dedicated missing persons unit in the wake of the McArthur investigation and public scrutiny around how the cases of his victims were handled. The unit consists of two lead detectives, four detective constables as investigators, and one analyst.
Police dig up more human remains
July 4, 2018: Police begin excavating the forested ravine behind the Mallory Crescent home where McArthur worked as a landscaper, and the remains of seven of the men he's charged with murdering were found in planters.
Black bags were seen being loaded into a coroner's van at the property. The next day police confirmed they'd found more human remains in the forested ravine area.
Police sift through and excavate materials from the back of a property along Mallory Crescent in Toronto after confirming they have found human remains during an investigation in relation to alleged serial killer Bruce McArthur. (Tijana Martin/Canadian Press)
July 12, 2018: Police complete their excavation of the forested ravine area behind the Mallory Crescent home. Investigators say they dug up human remains nearly every day they were there.
July 20, 2018: In a news conference, police say they've identified the remains of Majeed Kayhan from the evidence they uncovered in the ravine area behind the Mallory Crescent home where McArthur worked as a landscaper.
Kayhan was the only McArthur victim whose remains had yet to be found.
Majeed Kayhan's remains were found after police spent nine days searching a ravine near a home where alleged serial killer Bruce McArthur worked as a landscaper. McArthur has been charged with first-degree murder in connection with Kayhan's death. (Toronto Police Service)
Police had previously identified the remains of Skandaraj Navaratnam, Andrew Kinsman, Selim Esen, Abdulbasir Faizi, Kirushna Kumar Kanagaratnam, Dean Lisowick, and Soroush Mahmudi from planters stored on the Mallory Crescent property.
At the news conference, lead investigator Hank Idsinga said police have no reason to believe they will find the remains of any other possible victims at any of the roughly 100 properties they've searched across the Greater Toronto Area since January.
Idsinga also said investigators continue to review cold-case files and missing-persons cases dating back to the 1970s and 1980s.
Oct. 22, 2018: McArthur waives his right to a preliminary inquiry, and is ordered to stand trial on eight counts of first-degree murder.
Nov. 2, 2018: Investigators say they've released the remains of some of McArthur's victims to their families. 
Alleged serial killer Bruce McArthur at a brief court appearance on Jan. 16, 2019 in Toronto. (Pam Davies/CBC)
Nov. 30, 2018: Ontario Superior Court judge says McArthur's trial on eight counts of first-degree murder will begin Jan. 6, 2020. The judge said the trial will likely take three to four months.
Jan. 16, 2019: McArthur made a brief appearance in a downtown Toronto court. The serial killer no longer had a beard as he did in Facebook photos from before his arrest, which were widely circulated by the media, and his head was completely shaved.
McArthur pleads guilty
Jan. 29, 2019: McArthur pleads guilty to all eight counts of first-degree murder when he appears in a downtown Toronto courtroom.
Crown lawyers say McArthur murdered his victims while they were confined during sexual acts before dismembering them. He is said to have kept « souvenirs » of the murders, including jewelry and notebooks.
Police investigators discovered items including syringes, zip ties, a surgical glove and duct tape in McArthur's apartment.
His guilty plea will result in an automatic life sentence, with no chance of parole until he is at least 91 years old.
Further details about the investigation and murders are expected to be revealed during McArthur's sentencing hearing. That court appearance is scheduled to begin on Feb. 4, 2019.
Shutdown reprieve just 'eye of the storm' for some anxious U.S. federal workers
Judy Motley needs some sleep. For now, she'll settle for a free meal.
The 64-year-old clerk at the Environmental Protection Agency was among 7,200 people who lined up on Monday for a steak sandwich and a complimentary bag of groceries for federal employees in Washington after the record-long partial U.S. government shutdown.
Despite a short-term deal that reopened the government for three weeks, until Feb. 15, Motley still worries. After being on furlough for 35 days, she's back to work.
But she says she's often up late fretting about her finances, as how long this all lasts remains up in the air. 
« I had too many sleepless nights, wondering what can I pay for? And what can I hold off on? »
The gears of U.S. government creaked into motion again on Monday after congressional leaders and President Donald Trump agreed to reopen the government, without honouring Trump's demand for $5.7 billion to build a southern border wall.
Judy Motley, 64, a clerical worker at the Environmental Protection Agency, says she's been unable to sleep well for days because of anxiety about the 35-day-long government shutdown. She said she worries it will happen again if the government can't reach a deal on border security by Feb. 15. (Matt Kwong/CBC)
Office lights flickered on in departments that were dark for days. Staff finally watered wilting plants. Some civil servants came to work and said they were greeted with a « Welcome Back » banner and a medley of pastries and juice bottles.
Still, the temporary period of reprieve hasn't alleviated much of Motley's anxiety.
« Because I know it's not over, » she said.
On the weekend, Trump put the odds of him reaching a permanent border security deal with lawmakers at « less than 50-50. » Failure to reach a deal would once again put 800,000 government workers at risk of another shutdown.
If it comes to that, chef and restaurateur Jose Andres's World Central Kitchen — the non-profit that provided the free lunches in Washington on Monday — might consider activating its operations to extend past this week, a spokesperson said. The organization's service of complimentary meals and its resource centre, where federal workers could get free groceries, was meant to run until Friday.
A sign at the Metro Center station in Washington, the central hub of the city's rapid transit system, welcomes back federal employees on Monday. (Matt Kwong/CBC)
Reggie Uwandi emerged from the resource centre on Monday with a bag of baby formula — for his sister.
« She's a federal worker, too, and she can't walk right now. She went into labour two days ago, » he said.
Uncertainty about when Uwandi might get his next paycheque, and whether he'd have to pick up a second job, forced him to cancel his application for a new apartment. He was already approved to move in four days ago.
« But seeing that the government's maybe only going to be open for three weeks, I'm pretty much just watching to see what happens before I make my decision. »
He's staying at his parents' house for the time being, anxious about that Feb. 15 deadline, when funding again runs out.
« The clock is definitely ticking; I'm just ready to start my new life, not always monitoring CNN to figure out what's my next move. »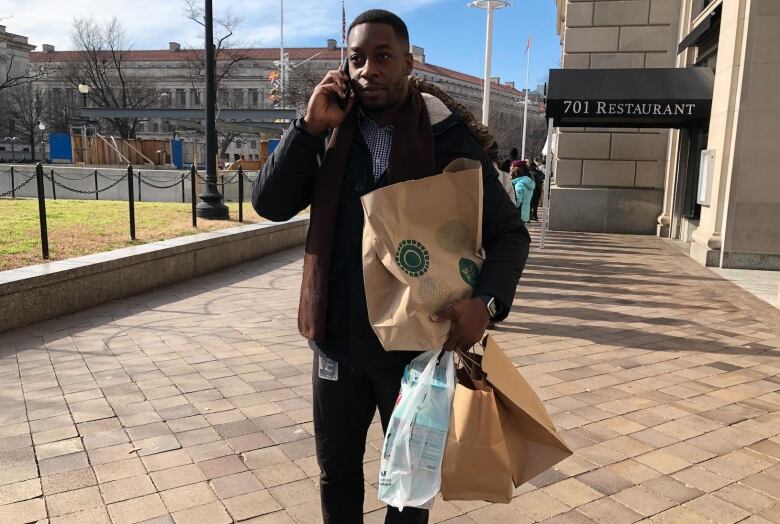 Reggie Uwandi, a federal employee who works in IT for the D.C. courts, carries a bag of baby formula for his sister's newborn baby. Uwandi says he's anxious about another possible shutdown on Feb. 15: 'The clock is definitely ticking.' (Matt Kwong/CBC)
Inside the resource centre, Ronald Jackson, who has worked for eight years for an agency of the D.C. federal court system, hauled off a donated bag of vegetables, rice, pasta and sauce. Every little bit helps for the 40-year-old, an essential employee who continued working — without pay — throughout the shutdown.
He said he'll return every day that he can, as long as the government lacks a more permanent funding measure — one that might extend at least until the fall.
Jackson likens the uncertainty over another imminent shutdown to a storm: He hopes this isn't just a short-term period of calm at the centre of a worse battle to come.
Ronald Jackson, 40, is an essential federal employee who worked for 35 days without pay in a branch within the Justice Department. He worries the current three-week period in which the government will be open is just the 'eye of the storm.' (Matt Kwong/CBC)
« You had lightning and thunder, but those skies are still grey, » he said. « We could still be in the eye of the storm. Who knows? »
The non-partisan Congressional Budget Office estimates that the impasse over Trump's demand for wall funding will end up costing the federal government about $3 billion. On Wednesday, a bipartisan group of lawmakers from both the House and the Senate will hold an initial meeting to try to negotiate a deal before funding runs out next month.